With SQL Server Disaster Recovery Have Pleasure of Sheer MDF File Recovery
Being conscious about user's availability of crucial solutions, the company has vital most SQL Server Disaster Recovery software which works efficiently for SQL server 2008 disaster recovery procedure up to the mark. Software assures to work in the instances when MDF files turn inaccessible and stubborn to work efficiently. In short, when MDF files come across the unexpected system breakdown, virus attacks, media read errors like situations then you can avail this application immediately to help you out.


Problem client recently faced: An organization with SQL server one day found an error message on screen saying.
"Table error: Page P_ID, slot S_ID, column C_ID is not a valid complex column."
The error message above is error code 8960 which occurs mainly because of inaccurate situations like:
SQL database damage
Table records corruption
Hardware issues
SQL Server Disaster Recovery Plan
This error based situation is highly simple to clear out with exclusively with our SQL Server Recovery software. Though, there are many facilities using which you can avail the solution like 'DBCC CHECKDB' command or 'DBCC CHECKTABLE' command etc. You can also 'exchange some of the hardware components' to check the main reason for the SQL database damage. But there is no surety of results from these solutions. So, external software can better help you to repair and recover SQL Server 2008 database.
SQL Server Recovery for Ensured Business Continuity
Our SQL Server disaster recovery software shows best possible consequences in the event of MDF file corruption. For immediate effects, software meets with advanced inbuilt techniques such as FHCR and ADCT. We assure that the tool supports providing more than expected results. The use of powerful algorithms tool employs repairing full-fledged and heavily damaged MDF files quickly because the software knows how valuable MDF file is for administrators.
Screenshot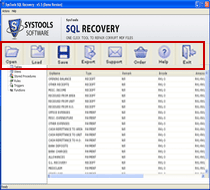 Objects Recovery